Want The Best Quality Gardening?
Stump Grinding and Removal
The team here at Tree Service Erie Pa, has a lot of options for all your tree stump needs. We do everything from grinding, to cutting and removing and digging them out. There are many options to have your stump removed. We have all the options for your tree stump removal Erie pa. Just give us a call today and we will take care of what ever you need.
There are many pros and cons between stump grinding and removal and we will mention most of them here for you so you can make the choice on which option would be better suited for you. 

remove stumps
With stump grinding its faster to remove stumps, It is not labor intensive and there is no gaping hole after the grinding.

Proper Care
Stump grinding is also very environmentally friendly and the stump can be used for mulching after it is ground. Now here are some cons.

Safe for Pets
There are some possibilities of eventual sprout, roots can decay leaving a sink hole eventually and it could be harmful to people and pets if they fall or trip in the hole.
Here we will go over the pros and cons of stump removal so read on and you can decide if this is a good option for your situation. Complete elimination of the stump and roots so there will be nothing left to decay over time.
Replanting is easy for grass or another tree if needed and or wanted. No health hazards at all. The cons it is time intensive sometimes depending on the size of the tree. Stumps are more difficult to remove then grinding them.
Usually a gaping hole after removal. Most of the time it is not environmentally friendly since there will be use of bigger equipment.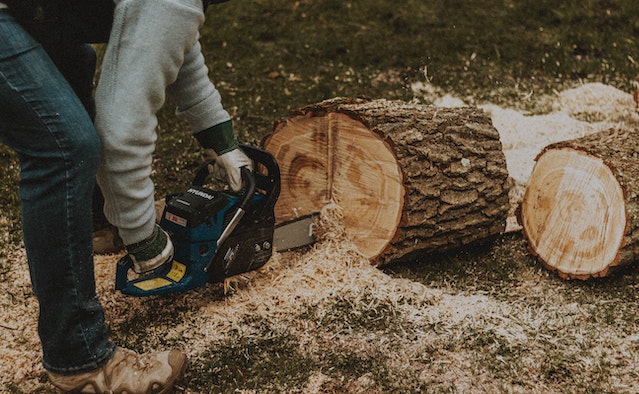 Recommendations and Services
Here at Tree Service Erie Pa we will not force or push you into a decision you are not happy with, we understand that this is a big decision and can be a costly one at that depending on the size and location of the stump and what equipment would need to be brought in for such a task. We are here to help you with your decisions not make them more difficult. We will do whatever it takes to help you make the right decision without leaving you thinking if you have made the right decision after we have started the process. So give us a call today  and lets get those stumps taken care of.
Let us take care of them for you!
Once we take care of the stump there is very little maintenance that needs to be done! that is the great part about having a stump removed or ground down. Usually if the stump is removed we recommend filling in the hole and compacting the soil so you do not have a giant hole in your yard. Most of the time we can do that for you. If the stump is ground down we have a couple of different things we recommend so it doesn't start growing back. So get in touch with us so we can help you decide the right option for your situation.