Since we here at Tree Service Erie Pa, have been in the business. tree cabling and bracing has been a service we are asked about we figured we would dedicate a page on our website educating the public and consumer about what tree cabling and bracing is.
Many people have heard about it but not many people know exactly what it is.There are a lot of different meanings of bracing and cabling. below we will explain what they all mean and how we can offer these services to you. So read on and learn about how we can help you, and as always if you have any questions feel free to reach out.
when trees have branching that has been compromised or is a bad habit of the tree. Or if the limbs or branches are split or cracked and or areas of the root system is starting or has been decaying there is a risk of failure in the structure of the tree. trees that produce heavy crops also add to the failure of the tree structure. In proper pruning can also lead to failure. when the weak areas fail large trees, trunks or limbs and sometimes even entire trees can come crashing down.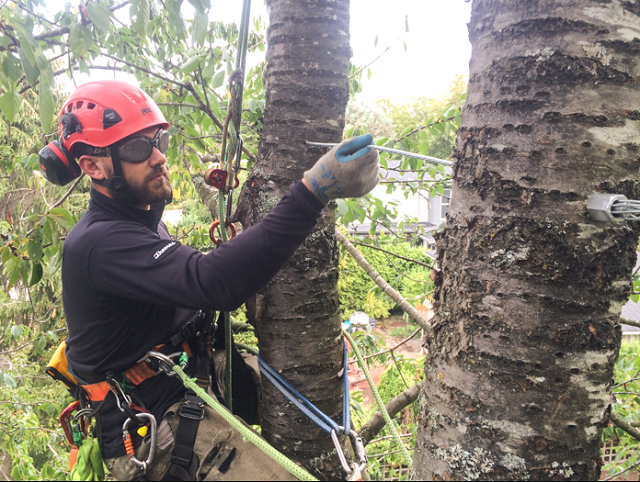 Get the most from your trees!
Weak limbs and tree structures can often be saved to prevent future or further damage with cables and rods. They will both offer support for the weak structures. 
When the bracing rods are placed properly they support splitting limbs by bolting the limbs together.
when the cables and or rods are installed they offer a lot of support but they do not guarantee they will not fail in the future. All trees can fail for any given reason at any time.
When cables are placed correctly between tree trunks they can help redistribute the weight allowing the limbs and trunks to support each other.
When using cabling and rods to support a trees structure the hardware will need to be inspected annually since it can be damaged by natures elements. the normal movement of most branches and or trunks can sometimes cause the cables and hardware to wear all depending on the circumstances. Annual inspections are very important when it comes to cabling and bracing. If a cable has a failure it could result in property damage and even personal injury. The Inspection of the cabling and rods is a very important maintenance issue and it should never be overlooked so contact us today to have us check out your bracing so we can make sure its safe.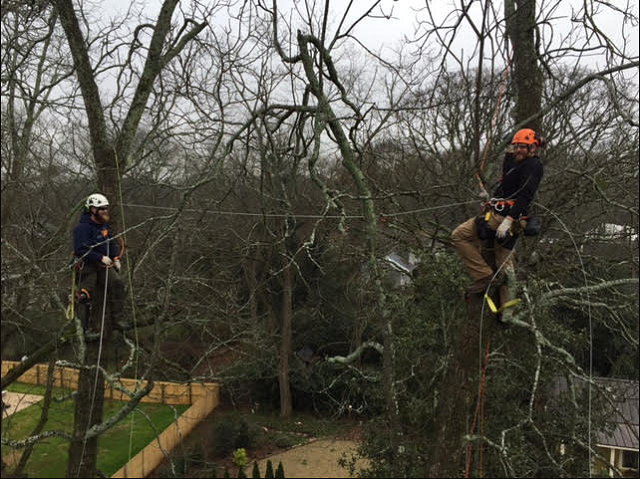 Booking an appointment with us is very simple and is the best way to determine if cabling and bracing is right for your situation. You can call us directly or book us online by filling out a form that is on the top of the page. We are always available to assist our customers and future customers. We look forward to speaking with you and helping you with your tree situations you may or may not have.